There is no part or complete translation available for this page. Close this dialogue to see the original text.
Na svečanosti u hotelu Metropol Palas održanoj 21.12.2022., Javnom preduzeću 'Elektroprivreda Srbije' dodeljen je tzv. cirkularni vaučer za saradnju sa
Institutom za nuklearne nauke 'Vinča', kao NIO podnosiocem prijave za projekat "Razvoj modela veštačke inteligencije za predviđanje emisije zagađujućih materija iz termoelektrane 'Kolubara' na osnovu
eksperimentalnih ispitivanja" (dr Aleksandar Milićević-rukovodilac projekta, dr Zoran Marković, dr Milić Erić, dr Srđan Belošević, u saradnji sa ETF-Beograd).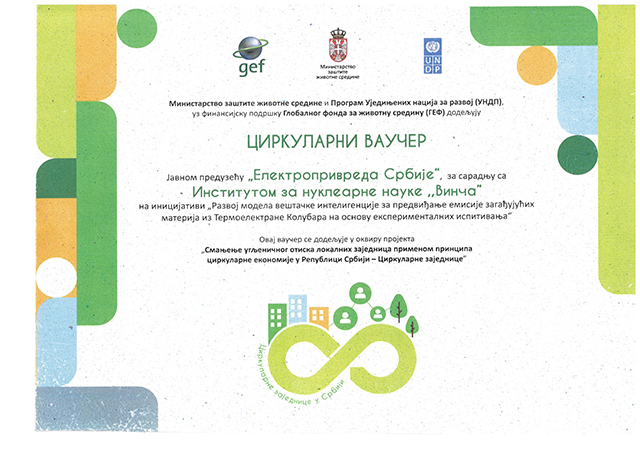 Ova inicijativa je nagrađena kao jedna od 12 najboljih inovacija za saradnju nauke i privrede u oblasti cirkularne ekonomije u Republici Srbiji. Inovacije su izabrane u okviru Javnog poziva, koji su raspisali Ministarstvo
zaštite životne sredine i Program Ujedinjenih nacija za razvoj (UNDP), uz finansijsku podršku Globalnog fonda za životnu sredinu (GEF).
https://www.undp.org/sr/serbia/news/nagradene-najbolje-inovacije-u-oblasti-cirkularne-ekonomije-u-srbiji